The brewery on Sundet in Värmskog
The farm Sundet is located on the east side of Lake Värmeln.
This is the place for the strait between Lilla Värmeln and Stor Värmeln which stretches between Borgvik in the south and Edane-Brunskog in the north. A stretch of about 5 miles of water road.
In the yard there is the small cottage Brygghuset for rent in summer. As the name suggests, the house has in the past been used as a bridge and back cottage.
Farmhouse
The house was built sometime in the 1850s together with the farm's other buildings. It is located about 35 meters from the manor house but still has a relatively undisturbed location a bit to itself. Renovation was done no later than 2002 and then a hall was built with a hall and WC with shower.
The kitchen is the place where you gather
The kitchen is in the old style with a large dining table and a kitchen sofa. Electric stove and sink but no dishwasher. Inside the kitchen there is a chamber with a double bed. There is a fireplace in the house.
The house is occupied in the middle of a large oven with several fireplaces.
In the hall there is a slate floor with underfloor heating and entrance to the toilet and shower.
At the top there is a sleeping loft with 4 beds suitable for children. The standing height is 1.75 m in the middle
The beach is our own and is shallow with a sandy bottom.
The water is very clear and of drinking water quality.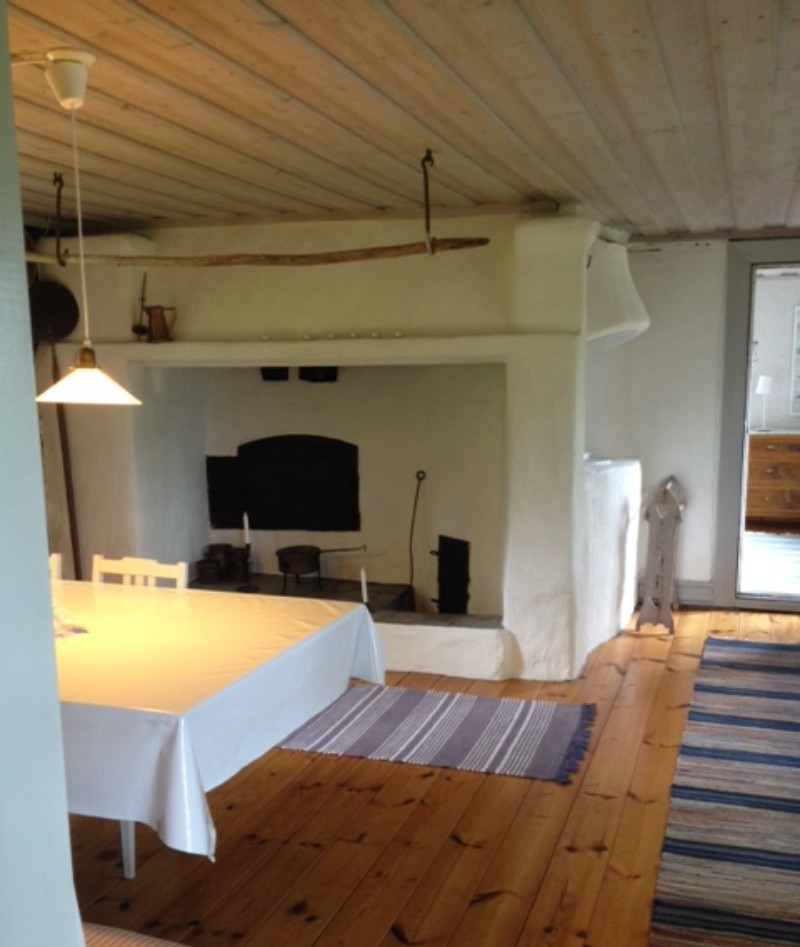 View from the kitchen window to the south.
Maybe weather for a boat trip? Rowing boat with fishing license is included in the rent. A small outboard can be rented if you want to take a longer trip.